Dr. Christina Cochran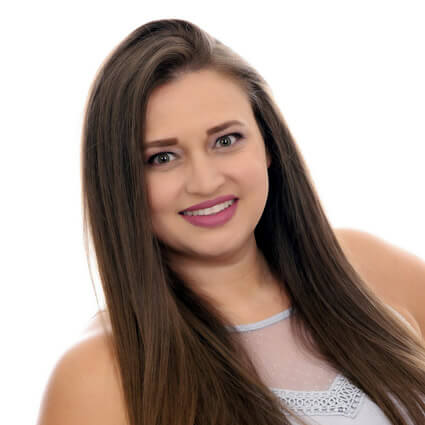 I'm passionate about being a chiropractor because I love helping others feel and live better!
When Dr. Cochran was 18, she interviewed for a position at a chiropractic office. All she knew was that they worked on backs-she wasn't even certain she wanted the job. When offered it, however, Dr. Cochran decided to take it. It wasn't even three months on the job before she had to call in with one of her semi-regular migraines. The chiropractor said, "Come on in." Confused, Dr. Cochran replied, "I can't work; I can't even function." Clearing it up, the chiropractor replied, "Not to work. To get adjusted!"
Understanding the Impact of Chiropractic
Dr. Cochran was skeptical, not understanding that there was a connection between chiropractic and migraines. The examination was a blur that she half-listened to, suffering from extreme pain. After an adjustment, the chiropractor performed acupuncture on her. The migraine that would usually take 1-2 days to go away was gone within a couple of hours. Fascinated, Dr. Cochran asked her boss to explain chiropractic to her again. That was where the spark began.
Another job Dr. Cochran had was at a physical therapy office, working as an assistant to help with Spanish-speaking patients. All these people had back surgery without even considering chiropractic first. After a friend graduated from chiropractic school, Dr. Cochran had a vision of her walking across that same stage to get her diploma, and decided it was what she was meant to do.
Dr. Cochran attended Parker University, earning a Doctorate of Chiropractic along with a bachelor's degree in health and wellness. For six years, she worked in Texas until her husband's military career moved the family to Virginia Beach. It wasn't long before it was time for her husband to retire, and they decided to lay down roots for good.
Dr. Cochran is an ICPA member and Webster certified. She is also about to finish her Perinatal Certification from the ICPA.
The Move to Our Community
The Emerald Coast had captured their family's love for the beach and small-town living. Milton was the perfect place to open UNWIND Chiropractic & Wellness. Here, Dr. Cochran loves to make the most of the outdoors, going hiking, camping, paddle boarding or just relaxing in the sun. She loves to read, listen to music, travel and spend time with family and friends.
Book Today
Same-day visits are often available. Check out our convenient online booking system now!
---
Dr. Christina Cochran | (850) 750-1115